While reading one of my favorite blogs Because I'm Addicted I came across a great DIY tutorial that I thought you all would enjoy...

diy: metallic collar button up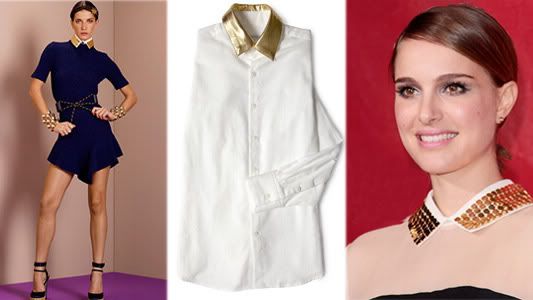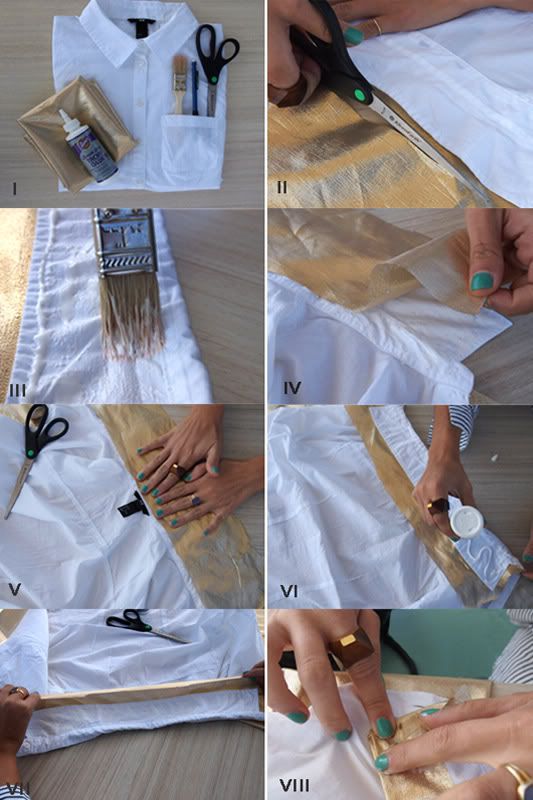 A twist on a classic, this DIY-metallic-collar-button-up that Sophie Monet and I whipped up is the perfect way to shake things up in your existing closet. If you have a button up (I'm partial to white as witnessed here, here and ya, quite a few other times but any color will do) hanging in your closet why not take it from basic to BAM! for under seven bucks?



How to: Metallic Collar Button Up
You will need:

Button up shirt

2 ft x 6 inches gold (or color of your liking) fabric

Scissors

Fabric glue
Pen
Paint brush
1. Unbutton your collared shirt and lay it flat on top of your gold fabric.

2. Laying about an 1.5 inches from the edge, loosely trace around the collar.

3. Cut out the gold fabric that will be used as your collar.

4. Use a paint brush to evenly distribute the glue onto the side of your collar that will be visible when worn.

5. Place your fabric onto the collar and press down to make sure the fabric is not bumpy. Let dry for 10 minutes.

6. Flip your shirt and repeat step 4 and 5 to the opposite side of the collar.

7. Apply glue to the ends of your gold fabric at the collar's tips. Fold back and let dry.

8. Wear it well!

p.s. my leather jacket in the finished shot is LnA.